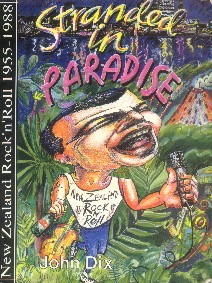 Stranded in Paradise, first released in December 1988, quickly sold out its first print run of 9000 and has remained largely unavailable since. However a delux, hard cover, case-bound limited edition of 1000 copies was withheld from market. The remaining copies of that limited first edition are now out of stock.

"You can't really write about rock 'n roll you have to listen to it and live it. Well that's what I did," John Dix, March 2004, interview with Keith Newman for Musical Chairs, Radio New Zealand.

A 21st century re-write of Stranded was released in October 2005 by Penguin to coincide with the 59th anniversary of rock 'n roll (Below: John Dix signs the new version for Bruno Lawrence's sister).

"From cover to cover, the good times and the bad, the drugs, the busts, the bust-ups, break downs, rip offs and cock-ups of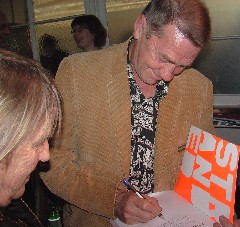 the rock 'n roll life and times were chronicled, and in Dix's easy, writing style, the weighty tome quickly became essential reading...Today Stranded in Paradise Volume One is considered a classic and a collectors item. Secondhand book shops shamelessly flog copies off - there were 10,000 printed - for up to $200 a pop," Judith Baragwanath, Sunday magazine, October 2005

TEMPORARILY OUT OF STOCK

An illustrated Who's Who of New Zealand Rock 'n Roll from 1955 - 1988
From Johnny Cooper, Johnny Devil & the Devils, Max Merritt & the Meteors, Sonny Day, Tommy Adderley, Tommy Fergusson, Howard Morrison, The Librettos, Peter Posa, Bill & Boyd, Ray Columbus & the Invaders, The Underdogs, The La De Das, Fourmyula, Human Instinct, Larry's Rebels, Barry & the Breakaways, Quincy Conserve, The Chicks, Mr Lee Grant, Shane, Sandy Edmonds, Dinah Lee, Pete Sinclair, The Avengers, Simple Image, Craig Scott, Billy T K, Ticket, Rick Bryant, Mammal, Sam Hunt, Blerta, Corben Simpson, Shona Laing, John Hanlon, Sharon O'Neil, Mark Williams, Space Waltz, Split Enz, Living Force, Dragon, Street Talk, Hammond Gamble, The Dudes, Hello Sailor, Citizen Band, Rough Justice, Suburban Reptiles, Toy Love, Misex, The Swingers, The Crocodiles, Jenny Morris, Midge Marsden, Herbs, Tall Dwarves, The Bats, The Narcs, Netherworld Dancing toys, Peking Man, Dance Exponents, The Mockers and dozens of others.