Windows 7, the next version of Microsoft's pervasive operating system is now with software developers who're optimising applications ahead of a beta release early in 1999 and general release in 2010.

The new software for laptop and desktop PCs has improved energy efficiency and security and a more intuitive ability to move in and out of networks. The operating system (OS) will adapt to how the user works with a more flexible look and feel. There'll be 'device management' for a full media and entertainment experience.

There's a greater focus on application and device compatibility, which some see as addressing issues with Windows Vista, Microsoft's current version now selling with most PCs. It will include location-aware printing, detecting networking capabilities and knowing whether a printer is at work or at home.

Microsoft has also hinted that it will have touch capabilities with elements of the technology already being showcased in Microsoft Surface technology. The OS will focus on core capabilities, leaving client applications and communications services for users to access through Windows Live if required.

Copies of the 32 and 64-bit 'pre-beta' versions of Windows 7 hit the Internet only hours after preview copies were handed to developers at the end of October.

Wait for Explorer 8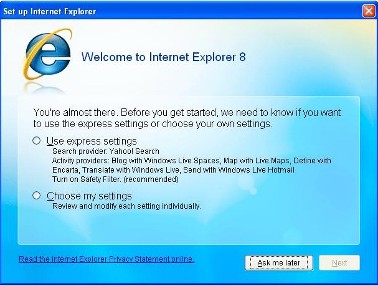 Meanwhile Microsoft beta versions of Internet Explorer 8, with a complete upgrade of features,

including enhanced privacy, ease-of-use, and security, have been doing the rounds.

The new version features a 'smart' address bar that remembers websites and redirects users if they've visited before, and includes an 'In Private' browsing feature that ensures temporary files and cookies are not recorded on the PC.

The 'Activities' function allows user to use address information found on one page for example, in conjunction with a mapping service without leaving the original site. A new security feature enables users to block content from third-parties trying to track online behaviour.

Explorer has around 75 percent share in the browser market.

Microsoft's last upgrade, Internet Explorer 7 was released to the general public in October 2006.