Three undersea cable projects will boost New Zealandís international communications capacity and create greater robustness for our future broadband requirements.

The majority of Internet traffic accessed by New Zealanders comes from offshore and the high demand on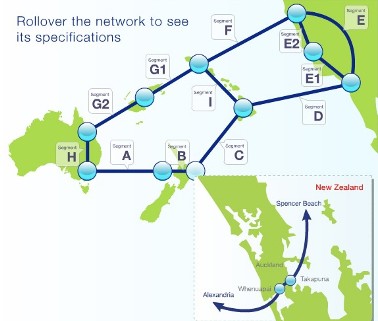 backbone connections to the US and Australia is one of the reasons why broadband is so expensive and often slow.

Pressure on the Southern Cross undersea cable between New Zealand, Australia, Hawaii and the US became so serious last year capacity had to be doubled

. Majority owner Telecom contracted Alcatel boost the 28,900 km cable from 240Gbit/sec to 330Gbit/sec but demand on the service meant a further expansion to 430Gbit/sec was required before the end of this year.

This has given Southern Cross leverage to drop its prices to ISPs but ongoing demand means a further tender will be let within two years tol take the overall capacity from 1.2 to 4.8 terabytes between Australia and New Zealand.

State-owned Kordia and the Kiwi Advanced Research and Education Network (KAREN) are also in the process of all investing in alternative undersea cables. REANNZ, which operates KAREN, is in discussion with potential partners for a new trans-Tasman undersea link with capacity greater than one terabit per second and a life of at least 20-years.

The government has committed up to $15 million to the project, insisting the link be independent and located outside of existing cables to ensure redundancy in the case of an earthquake or undersea accident for example.

The network will help expand the research network and also be available for other trans-Tasman traffic to help bring down the cost of communications.

Meanwhile State-owned enterprise Kordia is gearing up to build a 240Gbit/sec trans-Tasman cable with Pipe Networks. Detailed designs for a landing station are being drawn up and a virtual survey is underway to flesh out the business case.

The commercially operated company insists there will be no handouts from the government and that it would be funded through shareholder investment. Although Pipe Networks has had to seek additional finance in its bid to build cable between Australia, the US and Asia Kordia insists everything is still on track. Itís hopeful the $60 million cable will be live by mid-2009.