The world's LCD and plasma manufacturers, anticipating growing demand for bigger flat screen TVs have been caught out as 32 inch and under continue to dominate sales.

Some blame the economic downturn for more modest consumer aspirations although many of those upgrading from cathode ray tube (CRT) TVs are more comfortable with a thinner variation of what they've had. There's also a demand for smaller TVs for rooms other than the lounge.
By mid 2008 it became clear one third of the world market for LCD displays was still at 32 inch, forcing manufacturers who invested in factories for bigger panels to re-gear capacity.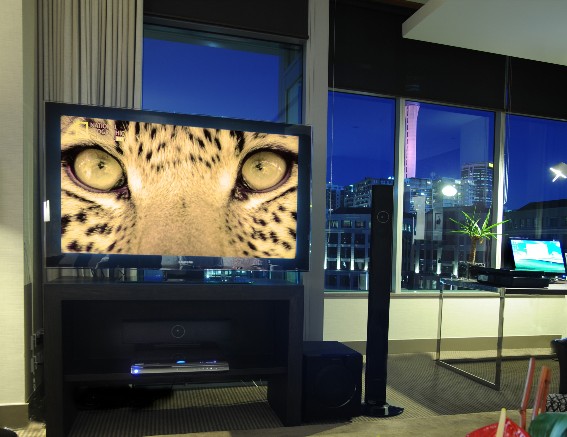 The strong trend to laptops or PCs with inbuilt TV tuners and high definition widescreens for casual TV and movie viewing is also continuing with

sales of these 'moni-TVs' expected to double in 2009 to more than 50 million units.

Price wars looming

South Korea's Samsung and Sony maker of Bravia sets lead the LCD TV market while Panasonic controls one-third of the plasma market. Both remain confident big screen sales will ultimately dominate as aggressive price cutting stimulates 40 inch monitor sales.

A looming oversupply of big panels in 2009 is expected to further impact prices of 40 and 42 inch models making them mainstream by 2010. The phasing out of analogue TV signals around the world, including New Zealand, is expected to have a big impact on future demand.

In fact flat panel TV sales are expected to more than double to 180 million units by 2012.

Japan Electronics and Information Technology Association (JEITA), predicts LCD sales will reach 155 million units, up from 74.8 million in 2007. Demand for plasma TVs is likely to reach 25 million units in 2012, compared with 11.4 million last year.

The trend is toward thinner, greener displays that deliver power saving and use less toxic components. Sony is gearing up to sell 40 inch LCD TVs that are only 9.9 mm thick and plans to double the frame rate from 120 to 240 frames per second on future models for seamless viewing of sports and action.

Before leaping into flat, wide, high definition (DH) it pays to know what you are looking at and looking for. Standard CRT TVs

typically have 625 horizontal lines while most HD-ready sets deliver 720 or 1080 lines, often written as 1080p (progressive scan) or 1080i (interlaced), describing the way images are drawn and refreshed on the screen.

Size up your set



LCDs are lighter than plasma and consume less power and most response times, the on and off time for colour pixels, should be 8ms or less. Plasma screens typically work better in a darker room and really begin at 37 inches.

HDTVs range from 32 inch (est $600-$1000) through 40-46 inch ($1300 to $3000), and increasingly 50 and 52 inch models, where you could pay between $3300-$5000.

At the low end 17-20 inch LCD TVs can cost up to $400 and 22-26 inch brands under $750.

If your TV of choice has Freeview inbuilt, that will save you a set top box. Another thing to look for is the HDMI (high definition multimedia interface) or

USB slots, enabling you to interact with your computer, camera or wireless router.

Measure up the allotted space before you go, so you know the unit will fit te. Walk around your impending purchase, ask to see normal TV or a standard DVD rather than the HD demo they're showing so you can get a realistic expectation.

Oh and does a cabinet, surround sound system or DVD recorder come with it? Go on, be cheeky. Remember, there's no such thing as a silly question when it comes to spending good money on an important home entertainment appliance.