While compact point and click cameras have stolen the digital limelight in recent years, smaller, more capable, higher-end single lens reflex (SLR) cameras have now become the fastest growing market segment.

While your typical SLR has been bulky and heavy, largely to accommodate all that glass and processing power, the digital revolution is whittling them down to size with slimmer bodies and retracting lenses. Canon

Nikon, Canon, Pentax, Olympus, Sony, Panasonic, Fujifilm, Kodak and Ricoh have made successful transitions from film camera specialists to digital SLR where they're experiencing year on year growth.

The market is dominated by Canon and Nikon but Panasonic, the seventh-largest player, is putting up challenge with its Lumix DMC-G1, billed as the world's smallest SLR. It's a third smaller than previous models, weighs in at 385 grams and is expected to sell for around $1200.

Double the features

Meanwhile more bulky SLRs with interchangeable lenses, remain the preferred professional camera at the most lucrative end of the market. At the higher end you can pay $1000-$1500 or more but you'll most likely be getting considerably more functionality at half the price of three years ago.

Standard SLR offerings, from 10-14Mpixels with a 1-2Gb memory card, start under $800 although there are bargains to be had.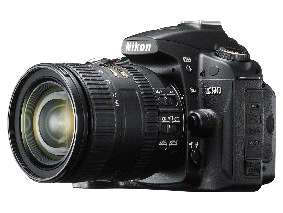 Entry level compact cameras are more affordable than ever. Basic 6-8Mpixels units with 3x optical zoom sell for $150-$300. At the mid-range, units with 8-12Mpixel capability, 4-6x optical zoom and bigger LCD screens range up to $800 and have more sophisticated features including some form of face detection and optical stability.

This year there are some extraordinary examples of lenses with 15x or even 18x optically stabilised zoom, or 28mm-486mm. At 28mm you're getting great wide angle coverage and at the far end of the zoom you're delving into the distance to deliver close-ups with as many pixels as possible.

Also look for macro capabilities that allow you to zoom in on insects or caterpillars to capture nature in all its colourful detail.

Cameraphone challenge

Phone camera phone sales have leapfrogged traditional cameras for some time but the resolution barrier, around 1-2Mpixels for the past two years, has been raised with many of this year's high-end cellphones coming in at 4-5Mpxels. In fact Sony Ericsson's new Cybershot has lifted the game even further with 8Mpixel capability, the equivalent of a mid-range camera.

A good camera is a very personal device, something you want to build a relationship with and learn more about as you go. Before buying, ask yourself how does it feel in your hand, is it comfortable and steady? Do you have easy access to the shoot button and the wide angle and telephoto controls?

Ask to use the camera in the shop, look at the results, ask questions. Will they throw in a free bag or 2Gb memory card? How much is an extra battery?

If you want to produce really high quality prints or posters, look for the RAW option rather than having your photos compressed in .jpg format. While these images hog memory, and need to be opened within your computer, they don't skimp on the pixels and are ideal if you want to manipulate them or print at A3 or A1 size.

There's no doubt the camera technology will continue to improve but it will always be the photographer behind the viewfinder who seizes the moment in its digital glory for others to appreciate.