The computer is rapidly moving into the heart of the average Kiwi home not only as a workstation but as an entertainment and communications hub for downloading and processing words, sound and images.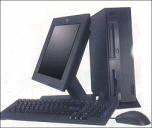 New Zealandís love affair with the PC continues with many of us on to our second or third machine. According to market researchers IDC there are about 550,000 PCs in New Zealand homes, thatís around 39 per cent penetration, and doesnít take into account those who have a home office or farmers for example who use their machine for work.
The market remains as competitive as ever with new models and specifications pushing the boundaries virtually every quarter. You donít have to go to the retailer Ė you can always customise and order on-line from the relative safety of your PC browser. Regardless predefining your requirements is essential so youíre not intimidated by salespeople or perplexed by the latest specifications. .
There are second hand or budget deals around but you get what you pay for and if the product is $1000 or less itís likely to include less than optimum components. Ensure you have comeback if something goes wrong - a warranty or at least one to three years on parts failure is recommended. Check out the credibility of your vendor or you might find theyíve been replaced by a takeaway bar half way through your warranty period.
You can be certain that within six months of purchasing your dream machine will be surpassed by something even faster and fancier so the first rule of thumb is to buy ahead of your need. You may start out with word processing and internet as your goal but youíll soon find other uses once youíre confident. Also ensure there are enough expansion slots to add extra peripherals.
An entry level PC these days is so highly specified these days that it would make someone who bought at the leading edge even a year ago green with envy. For an investment of between $1500 - $2500 you should be able to get a machine with a 1GHz -1.5GHz central processing unit (CPU) or chip with 256Mb random access memory (RAM), the minimum for Windows XP to operate optimally.
Entry level should get you a minimum of 20Gb hard disk although thatís rapidly moving out to 40Gb or 60Gb. While you might be offered a 15-inch screen the difference in price for a 17-inch monitor is minimal. However, flat screens or even 19-inch screens are now becoming affordable and are certainly easier on the eyes
For the high-end user wanting more bang for their buck, budget $3000-$4000. Itís recommended to go for a 2GHZ to 2.5Ghz processor or wait for the latest 3GHz release from Intel early in the new year.
Dealing with sound and video files can quickly eat up storage capacity so itís best to overestimate you needs with 80-90Gb hard disk or wait for 120Gb drives early next year. Itís amazing that only a few short years ago 120Gb was more than enough for a large corporation to store all their data.
RAM is relative cheap - the more you purchase the less youíll see the hourglass icon appear as your hard disk chugs away opening large files or moving between tasks. Most new motherboards are able to handle up to 3Gb RAM but once you get over a gigabyte you wonít notice much difference unless you are into heavy duty 3D graphics or multimedia rendering. Realistically go for 356Mb-512Mb RAM for high end requirements..
The speed of CD drives has also gone through the roof recently (50 x read compared to 30 x only a year ago) and thereís a rapid shift to offering a CD recorder as a standard incentive. At the low end you might simply be offered a CD-R drive but using it as a player can wears the laser heads. Itís preferable to have a writer and a player that will also handle DVDs.
Essentially the PC is only as fast as its slowest component. Technology commentator Patrick Pilcher recommends checking the motherboard has an AGP (advanced graphics board). "One of the biggest bottlenecks of the standard Pentium class PCI expansion slots is they only handle a certain amount of data per processor cycle and graphics cards often sit there waiting. The AGP is designed to get as much data into the graphics card as quickly as possible."
You should also check whether your machine supports firewire, a fast port for those connecting to digital video cameras for editing purposes. It should also have new USB 2.0 (universal serial bus), ideal for connecting scanners or downloading MP3 files to a solid state or minidisk player.
While you may be enticed by the bundled software, printer, scanner and 17inch monitor you need to ask if you really need these. The printers in particular are low-end offerings. If you want high quality photographic prints for example you might be better off bargaining up a level or two on the printer but remember the consumables (ink cartridges, special papers) can be a killer. If you have existing peripherals make sure theyíre supported or can be obtained from the vendor or over the internet.
Some scanners and printers over three years old are no longer supported. Microsoftís web site has giant database of drivers it still supports, or you could go to the vendorís web site or visit www.drivers.com.
The notebook market is healthy with prices down and performance up Ė although many of the current offerings have achieved that by using desktop processors and offering battery-less versions.
Itís always a safe bet to buy a big name such as Hewlett-Packard or Compaq which together have about 45 per cent of the consumer market followed closely by The PC Company, IBM and Dell.
And Apple has been on the comeback trail for the past couple of years offering attractive and colourful options for first time buyers and professionals, with a strong focus on publishing and multimedia.
Farmers, the exclusive retail outlet for PC Company machines, has added the Hyundai brand to New Zealand Ė the 2Ghz machines with CD writer/ DVD player come bundled with Sun Star Office, an hour of in-home training and a years on-site parts and labour warranty. At the entry level ($2299) a printer and scanner are included and the high end ($3799) a flat 15 inch LCD screen.
The superstores, Noel Leeming, Dick Smith and Harvey Norman and now Farmers are safer outlets for first time buyers largely because they offer choice, good warranties, payment options and attractive bundles.
Do your homework. Look at the options and pricing, compare the deals, talk to friends and donít be intimidated into buying outside your comfort zone. A computer is am amazingly versatile and powerful device that will bring a new dimension to study, work or fun and give you much pleasure over the next 3-4 years so buy wisely.