New Zealand-based soul and gospel singer Evan Silva continues to prove with every new CD and live performance that he rates alongside any of his international contemporaries with his sweet harmonious delivery and foot moving rhythm and grooves. His 2005 album Out of the Shadows was critically acclaimed and gained airtime on a number of radio stations with video clips played on three local channels.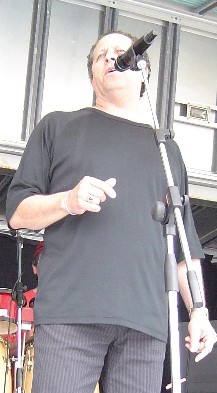 In 2007 he was back in at Stebbings recording studios in Auckland cooking up more groovy delights for his latest release of Kiss of Grace. Listen to Evan Silva's sounds and you'll realise he's a world class act and his music is an essential addition to those who love meaningful melodic tunes that get your feet moving and speak to the heart.

Better still get a taste of what you're in for
on YouTube
:
http://www.youtube.com/evansilva

Here's a little history:
After 30-years performing Evan Silva is still New Zealand's Motown man and his voice and songwriting continue to mature with the years; he always insists on the best and if you get a chance to catch him performing live with his band Silva Service you'll be stunned at their ability to weave wonderful magic around their front man.

Evan Silva was born in Mission Bay, Auckland in 1947 of Portugeuse, Pacific Island and French descent. As a teenager his skill as a musician and performer were quickly recognised when an uncle took him along to a club on the North Shore where he ended up making his debut at the age of 13-years.


By the time he was 16 he joined his first band known as The Mockers with some teenage friends who played through the Christmas period at the huge Orewa dances. However plans to take on lucrative weekend gigs were stifled when Silva, who had something of a short fuse, came to the notice of the law.

Juvenile hi-jinx

He'd been hanging out with a tough crowd and after a several assaults, mostly on those much larger than him, he was given six months of periodic detention. In those days young offenders spend the entire weekend under the watchful eyes of overseers where his frustrations were worked out behind a shovel.

That six months helped Silva decide once and for all that music was going to become the key focus in his life not hooning around with the bad crowd. He kept himself to himself playing weeknights performances with his own band which renamed themselves Nobody's Children.

This unit was one of Auckland's first full-on soul bands playing hard edged Wilson Picket songs including 99 1/2, Midnight Hour and 6,3,4,5,7,8,9. The band quickly became sought after for its hot sound and tight playing despite the fact Silva was often so nervous he would sing the night away with his back to the crowd. Nobody's Children played top Auckland venues The Galaxie and the Top 20 in Durham Lane.

Action full time

While performing at the Top 20 club in 1966 he met up with bass player Jack Stradwick who asked him to join his high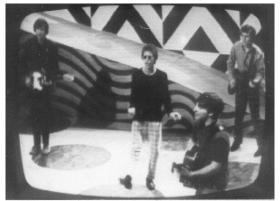 profile group The Action. Silva replaced Jack's brother Danny who had decided to leave the group. At long last Silva was able to realise his dream of becoming a full time musician. The Action was New Zealand's answer to the Tamla Motown sound with a tight rhythmic feel and classic soul harmonies. The band had been formed earlier in 1966 featuring Jack Stradwick on bass, Brian Harris on drums, John Bissett on keyboards and John Kristian on guitar.

The Action were resident at the Top 20 Club and then the Galaxie where they regularly drew full houses .They toured heartland New Zealand and recorded four singles on the Zodiac label - all of which made chart appearances. The band was a regular on Pete Sinclair's C'Mon TV show. Most of the time Evan admits he was drunk on Lemon Gin, 'the flavour of the year'.
The Sydney scene



The Action headed across the Tasman in late 1967. The first gig in Sydney was at Whiskey a Go Go alongside resident artists Billy Thorpe and the Aztecs. The first spot the band received rave reception from the American GI's on R&R from the Vietnam war who loved the Motown, soul sounds. The band was immediately signed for a residency at a club called The Hawaiian Eye in Sydney. They appeared on the top rated Australian TV show Bandstand.

The Action had taken up lodgings in King's Cross with Sydney's seamy underworld of dope and prostitution all around them. There were parties every night, and drugs were a staple diet. Evan recalls the consequences of those heady days included the death of a number of friends and others who never regained their right mind.

The stresses of working together for two solid years began to tell as tension grew between members of The Action. By late 1968 Jack Stradwick and new guitarist John Kristian quit so Silva got in touch with Mike Wilson and Gus Fenwick of The Apple to come over from New Zealand to keep the band alive. Drummer Brett Neilson was the next to quit and he was replaced for a time by Wellington drummer (now actor) Andy Anderson.

Wild antics

Evan recalls Anderson often played The Hawaiian Eye with a staff meal sitting on his tom tom drum so he could pick away at the food inbetween songs. When the band was playing however Evan says he'd often look over and see gravy and peas vibrating off the plate onto the floor.

On another occasion Anderson turned up late for a gig without his drumsticks. Just before the set he raced off down the road to the grounds of the Sydney court house, climbed a tree and came back with two thin green branches. He used these to pound his drums for the rest of the night with the sap spraying into the audience and band members.

Within a year of the third line-up change however, it was all over for The Action. The band members has pushed each other to the limits and it was time for something new.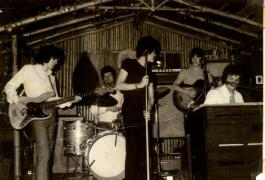 Silva put together a short term band with Wilson and Fenwick doing the club scene on Sydney's North Shore. After that he joined forces with popular Melbourne band Compulsion - formed from top Kiwi band Sounds Unlimited- and making an impact on the Australian scene. They were playing Hendrix and Joe Cocker and appeared in the TV soap opera Bell Bird and the movie The Vision, which band members barely remember doing.

Compulsive behaviour

Out of Compulsion Silva and Tehei formed another short-lived unit known as Total Abstainers which was approached to be the resident band for the rock musical Hair. This didn't happen and the band broke up with Tehei going on to join the remnant of another 60s Kiwi band The Castaways.

Silva and Stradwick formed progressive blues-rock band Hamul financed by a successful businessman which ended up playing in Melbourne then moving to Sydney where it was resident at the Condor Room for at least six months.
Back in New Zealand in about 1969 Silva and Mike Wilson got together again in 1971 to form The Truth - after a six-month residency at the Montemarte it also disbanded. Jack Stradwick went on to become a founding member of Tommy Adderley's Headband.

Evan Silva admits he had become "an arrogant, hard-hearted individual". He began to work in the studio doing vocals for a many TV and radio jingles including McDonald's, KFC and Woolworths. This was his forte for about seven years until around 1973 something happened in his life which to this day leave himself and his friends stunned.

Hard heart to Pastor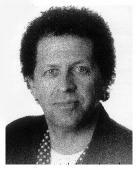 He became a Christian, a total change took place in his attitude and the way he lived. He began to study the Bible and receive new revelations about the real meaning of his life and how he could become a new person without the hard edges. Evan returned to the studios and worked from 1974-1981 doing vocals for a bulk number of TV & radio jingles. He formed his soul band ReAction, originally with the bass player for Lionel Ritchie's Commodores. This band played corporate functions, Java Jive, Corner Bar and Christmas in the Park, fronted the Galaxie Reunion and kicked off the book launch Hostage to the Beat at the Foundry.


Evan Silva became involved in leading 'praise and worship' with his musical skills and moved on to pastoring churches in New Zealand which he has now been doing for two decades. He still writes and performs some of the most rhythmic and soulful gospel, jazz and blues songs you're likely to hear anywhere.



Back into the studio

Evan and Jack Stradwick are both pastors in the Auckland Christian City Church movement. Evan and Jack collaborated on two basic gospel tapes Will It Be Gold and to Bring Glory in the 70s early 80s. He drove from Wellington to Auckland to record over a weekend then back again to the capital city to preach.

Evan recorded the CD Aint No Two Ways About It early in 1997 with Jack Stradwick on bass. The album features John Olding and Eddie Pausma on guitars, Denis Winters on drums, Trevor King on keyboards, Bruce French on saxophone and Sarah and Vanessa on background vocals. Evan is the main vocalist and does some of his own bvs. The album has influences from his Motown-soul roots and the sounds of Al Green, Four Tops and Otis Redding.

The title track Ain't no Two Ways About It recalls his time in Sydney playing the Hawaiian Eye in 1968 when he recalls a fan jumping on stage and preaching about Jesus Christ. This infuriated Silva who 'made him pay'. However that event stuck with him making his realise his own volatile personality. These days he sees Christ as having paid the price to bring him from that old life - 'aint no two ways about it!'. The CD was a finalist in the 1997 Clear Music Awards.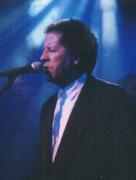 The album created considerable media attention due to Evan's long and distinguished history in soul and R&B music in NZ and Australia; and his conversion to Christianity. In 1997 Aint No Two Ways About It was a finalist in the Clear Music Awards. In 1998 TV3 Nightline News Host Alex DeJong visited Evan's church to film a Sunday service and interview him. This went to air on the 10.30 pm news. ATV News presenter Paul Hobbs also came to film and interview Evan about his music and the church; this was viewed on the 5.30 pm News. Radio NZ's Lisa Owen attended a service recording Evan and the congregation which went to air. Evan appeared on The Good Morning TV Show, answering questions and performing 'I Will Cry Out'. Cool Blue (96.10 FM), a jazz-blues continuous music radio station in Auckland regularly play the track I Say Father, as well as Send Me An Angel off his 2000 live album Gotta Get Up.
Leighton Smith, NZ's popular talk back host on ZB, received a copy of Aint No Two Ways About and concluded that Evan must be black American. He was amazed to discover that he was in fact a New Zealander, and decided to run a radio competition for listeners to "guess the artist". Listeners phoned in, citing an incredible diversity of musicians from Phil Collins and Steve Wonder to Eric Clapton. When Evan called to thank Leighton for the airplay, his producer put him on air immediately to be interviewed about his life and Leighton asked him to give a full account of his conversion to Christianity.
Since then Leighton has put out a compilation album with Warner Music called Makin' Whoopee. The song Love Sweet Love was included alongside tracks from Dr John, Willie Nelson, Ray Charles, Little River Band and others. Leighton publicly declared Evan' music to be "of international standard, deserving greater recognition".
Later that year Evan was interviewed live on air for an hour from the UK by CrossRhythms Network. The staff there too believed him to be American, and after finding out his nationality, originated the phrase 'Kiwi Soul Man' in their magazine review of his music. Most tracks off Aint No Two Ways About It were played on this station, and Love Sweet Love again was selected for a CrossRhythms compilation album
Gotta Get Up was nominated for the 2001 NZ Music Awards, Gospel section; and the song Send Me An Angel was covered by an artist in Denmark. Auckland based Jazz singer Caitlin Smith reviewed the album for NZ Music magazine, calling Evan "NZ Reformed Bad Boy – our very own Al Green." Caitlin wrote in the Feb/March 2001 Edition "the production is slick and warm…this album is a testament to Evan's singing strength".
In 2004 Evan had the opportunity to go into Stebbing Studios where he had spent years recording singles and singing jingles, this time to get his new album done. There were 13 new songs in a jazz, Latin and soul flavours with as couple of ballads including a duet with Caitlin Smith. Evan hand picked 24 musicians including a great rhythm section, and laid the album down over 18 months. The result was Out of the Shadows on the Zodiac label.
Now in 2007 Evan has been back working at Stebbings recording studio in Auckland on a laid back, melodic groove 'worship' album Kiss of Grace with all the top musos. Evan says the songs breathe life and leave plenty of room for God to ease inbetween bringing life and encouragement to the listeners.
Information for this article was gleaned from personal conversions with Evan Silva by Keith Newman, research from Melanie Chandler-Winters and reference to Hostage to The Beat - The Auckland Scene 1955-1970 By Roger Watkins


Check out Evan Silva on YouTube: http://www.youtube.com/evansilva